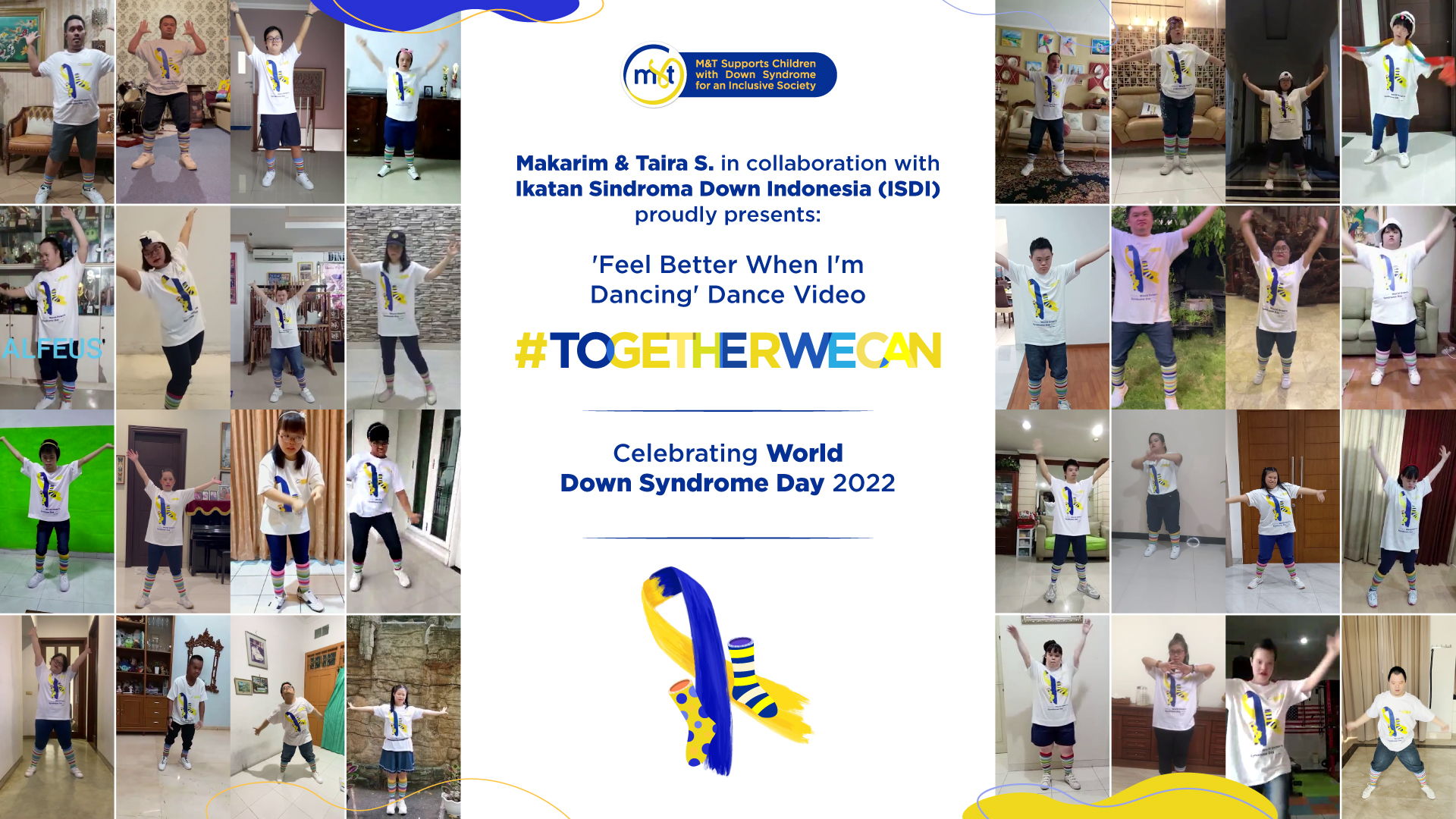 M&T Celebrates World Down's Syndrome Day 2022
"The only disability is when people cannot see human potential" – Debra Ruth.

11 years ago, the United Nations (UN) declared 21 March World Down's Syndrome Day. The objective is to raise public awareness of Down's Syndrome and empower people around the world to advocate for the full inclusion in society of people with #downsyndrome. The date being the 21st day of the 3rd month signifies the uniqueness of the triplication (trisomy) of the 21st chromosome which causes Down's Syndrome (worlddownsyndromeday.org).

Makarim & Taira S. has been fortunate to have a special partnership with the Indonesian Down's Syndrome Association (ISDI) which allows the firm to work together with the ISDI in various initiatives and become a world Down's Syndrome advocate.

One of the programs that was conducted successfully before the pandemic was an internship program, in which Makarim & Taira S. hired young people with Down's Syndrome to work at the firm. In 2021, to celebrate World Down's Syndrome Day, we held the 'M&T Painting Competition for young people with Down's Syndrome' in Indonesia. This was aimed at providing them with opportunities to explore their potential and be acknowledged by others. The best 13 paintings were rewarded by the firm and are now on display in the firm's 2022 Calendar. Last September, Makarim & Taira S. completed a project under the title of 'A Fruitful Impact: Growing Stronger Together' as part of World Law Group (WLG) Impact Corporate Social Responsibility initiative, in which the firm initiated an environmentally friendly activity and sent a fruit plant to ISDI members' homes for them to grow.

Today, celebrating the 2022 World Down's Syndrome Day, we are proud to share a video of 32 talented young people with Down's Syndrome from the ISDI dancing to a song by Meghan Trainor, "Better when I'm Dancing." With this video, we hope to let the world know just how amazing they are and to continue to advocate for the rights of people with Down's Syndrome. Please visit our LinkedIn page https://www.linkedin.com/posts/makarim-%26-taira-s%2E_mt-world-downs-syndrome-day-2022-flash-activity-6911482830564859904-OYcC?utm_source=linkedin_share&utm_medium=member_desktop_web and Learning at Makarim Instagram to support the campaign by liking/commenting on/sharing the video.
Our sincerest gratitude to the Ikatan Sindroma Down Indonesia (ISDI), the founder, Mrs. Aryanti R. Yacub, and its wonderful teachers, for this collaboration. We have proven that 'together we can' and they are better when they're dancing!

Happy World Down's Syndrome Day 2022!

#inclusion #togetherwecan #betterwhenimdancing #worlddownsyndromeday #makarimandtairas